TotalTakeover™: Your Exclusive Google Search Advantage
In today's digital age, standing out amidst the clutter of Google search results is more challenging than ever. But what if you could not only stand out on Google but also rule its search results page, eliminating any distractions from competitors?
Enter TotalTakeover™.
Our proprietary method ensures that when potential clients search for the services you offer on Google, they see only you. No more competing for attention on Google or losing potential clients to a competitor who just happened to rank slightly higher. With TotalTakeover™, we make sure that you are the undisputed choice, commanding the entire Google search results page.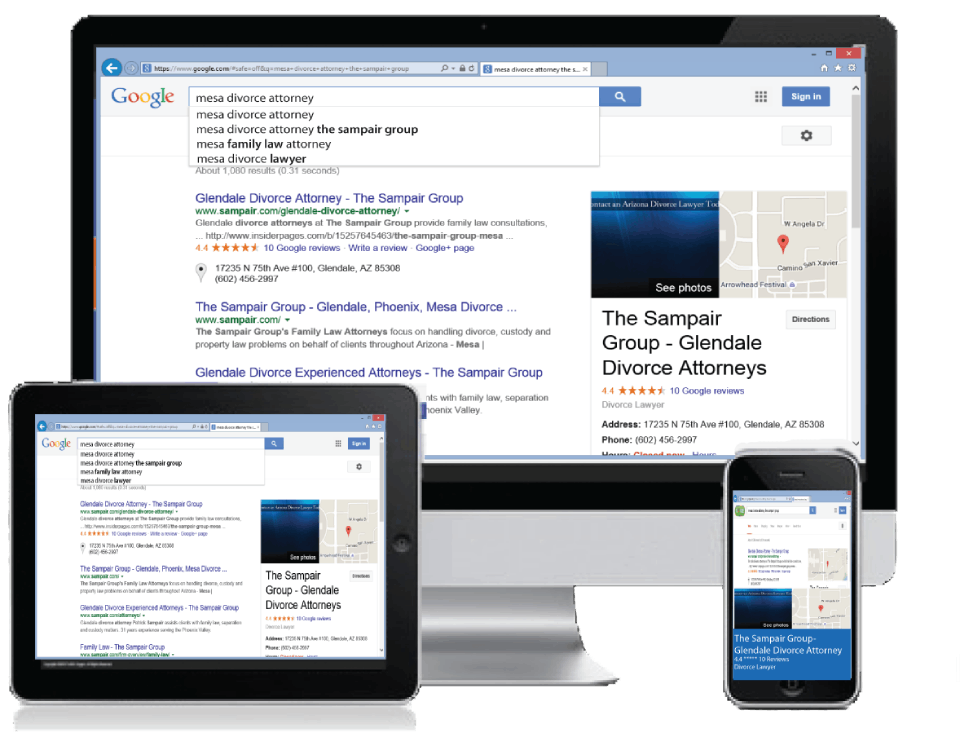 Watch how we take over the entire Search Result
We type in the search term "personal injury attorney" and as we do Google starts to Auto-Complete it for us.
At the point where the letter "b" is typed the Auto-Complete adds the Client before even completing Boston!
When you click on the Auto-Complete suggestion, the entire results page is dedicated to the Client!
Click the button below to check availability.
In the past, you had to fight for the top of page one using SEO or pay for every click in a PPC campaign. And even if you got to the top of page one, and paid the heavy price in SEO or Click costs, you could lose that top position in a day.
But not now, now you can own the exclusive right to your prime keywords in your service area and turn the search results into "Search Result" and have potential customers see only YOU in a full page take over like the one below.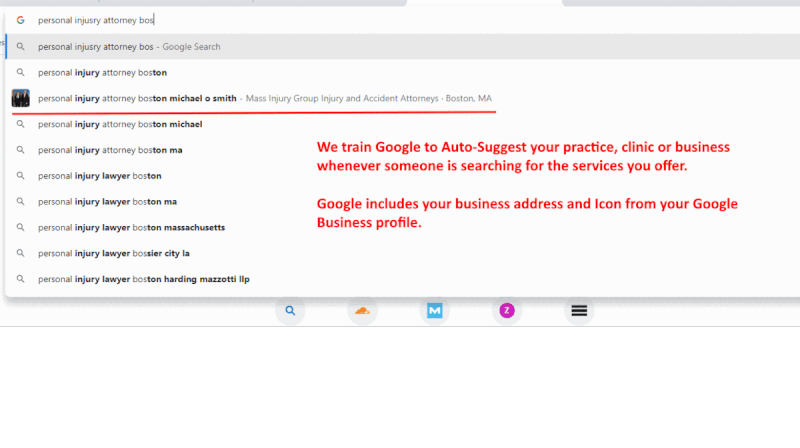 Whether you're a medical professional, a legal expert, or a tradesperson, our solution caters to you. We believe that top-tier professionals deserve top-tier visibility on Google. And that's exactly what we offer.
Imagine a potential client searching for your expertise on Google and seeing a whole page dedicated solely to your business, your achievements, and your services. That's the power of TotalTakeover™.
Don't just aim for the top of Google; own its entire search landscape. Experience dominance like never before.
Each Search Phrase is paired with Service and City and each is exclusive, there is only one Plumber Los Angeles for example. This is a new service and search phrases are being reserved quickly so don't hesitate to check the availability for your business.
Exclusivity – There is only one of each Search Term available.
Each term is owned by the first company to reserve it through our system. For example "Personal Injury Attorney Boston" in the example above, is no longer available.
Be the ONLY company your customers see.
The Ultimate Competitive Edge
Your customers will see your company as a "suggested term"
before they even complete their Search!
Before. They. Hit. Enter… 
Everyone sees YOUR BUSINESS first with Autocomplete-Optimization.
Takeover 100% of the the First Page
of the Search Results
ZFire Media puts you directly in the auto-complete function of Google and Bing. Your customers see your business upfront, preempting your competitors. If you're aiming for a significant edge over your competition, then identifying the top keyword phrases in your industry and dominating them is the way to go.
According to Google, about 71% of searchers use the auto-complete.
That's where you will be.
The Results Will Astound you.
You will dominate the space.
Why spend huge amounts of money on SEO and Pay-Per-Click campaigns?
We put you in the auto-complete for Google and Bing, so your customers see only you, dominating the entire search results page!
Keys to Success
You will be the only company showing up in front of your customers in the auto-complete.  And when they choose your company in the auto-complete, they bypass your competition and you own the entire first page.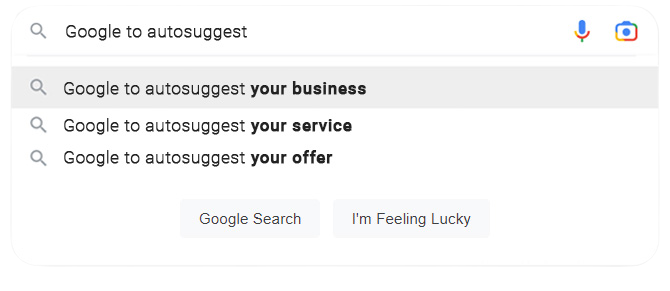 Cost Effective
You can save money on expensive pay-per-click campaigns and SEO.  You will own the entire first page of search results.
Competitive Edge
Every time a person types in the keyword phrase you choose, they will see you before they see any of your competition.
Exclusivity
You will be the only company listed for the keyword phrase that you choose.  We never sell a keyword phrase twice.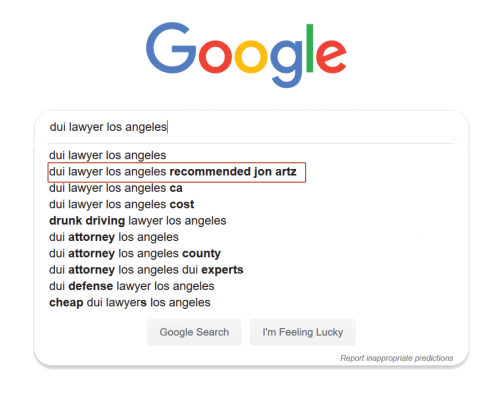 Hurry, once a keyword phrase is reserved, it's gone. Every keyword is exclusive by location so don't miss out!
  ♦ Pick the best keyword phrases that your customers search to find you.
  ♦ Every time someone types in the keyword phrase in Google, or Bing, they will see you.
  ♦ Save money on your pay-per-click campaign by having customers find you directly.
  ♦ Boost your online authority by having customers search for you by name
  ♦ Fast process. You can be getting new customers in 30 days or less with our Autocomplete-Optimization program.
Customer acquisition has never been this afordable.
Be in front of your customers on every search.
This is a unique marketing platform that none of your competitors will have. Make sure your company is the first one customers see when they search for your product or service.
Gain new customers and bypass your competition.

Be in front of every customer looking for you in Google & Bing.

Affordable programs to meet your budget needs.

Support and monthly reporting. 

Shows on all computer platforms and mobile devices.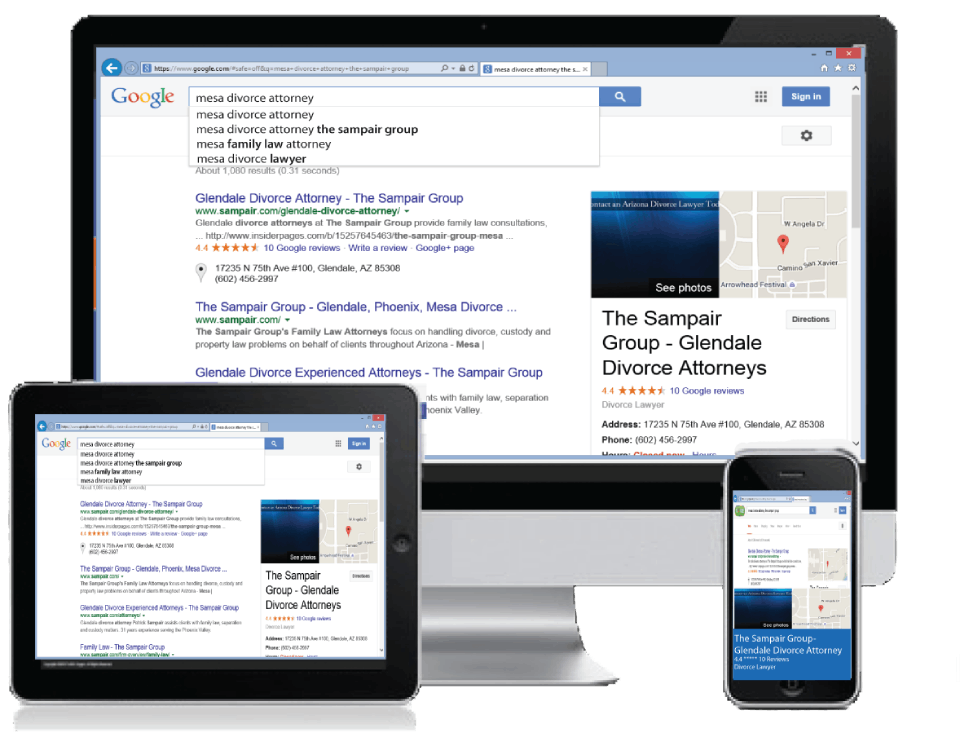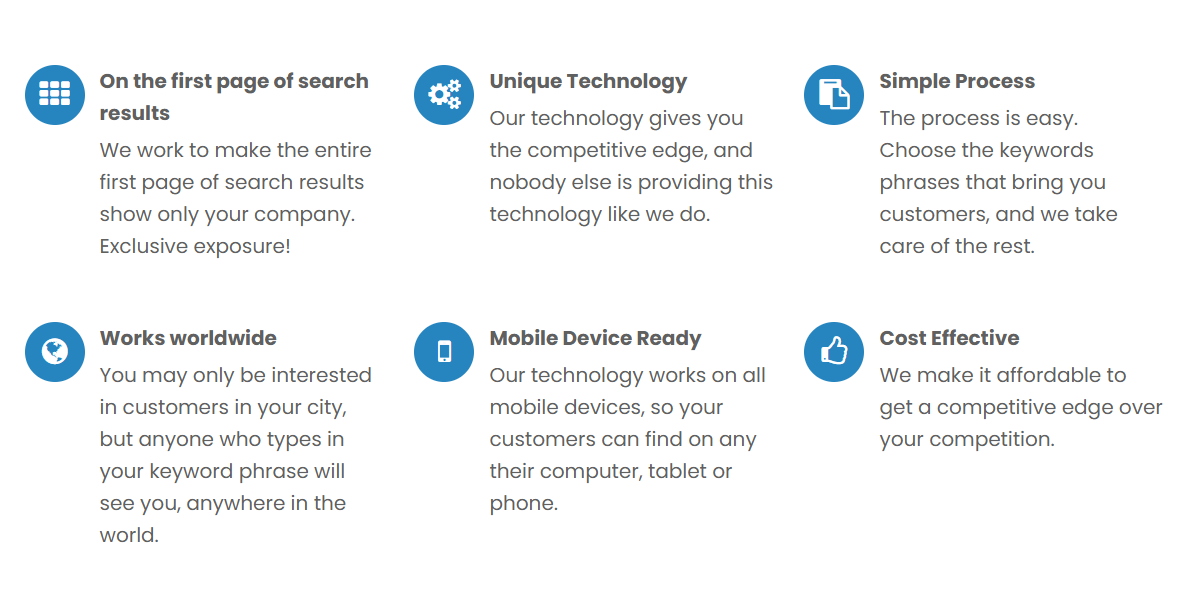 Getting started is simple and easy.
We've designed this program to be both straightforward and cost-effective, making this technology accessible to everyone for customer acquisition. We guarantee the exclusivity of your keyword phrase — once you purchase it, it's solely yours. We will never sell it to anyone else, ensuring your competitors will never gain access to that specific keyword phrase.
Question: Do I have to keep paying while we wait for our business to show up in auto-complete? 
Answer:  No.  After you make your reserve  payment, you will not make another payment until one of your keywords is in auto-complete.
Question: Will I show up on mobile searches?
Answer:  Yes.  You will show up on any device in Google and Bing.
Question: How long does it take for our company to show up in auto-complete?
Answer:  Typically we start seeing new companies in Bing within 30-60 days and in Google within 90-180 days depending on the competitiveness of your keywords.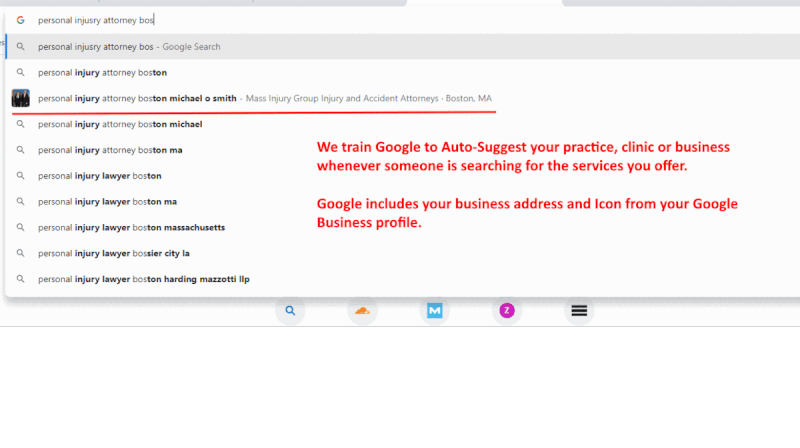 Local and national
We have marketing programs for local and national companies.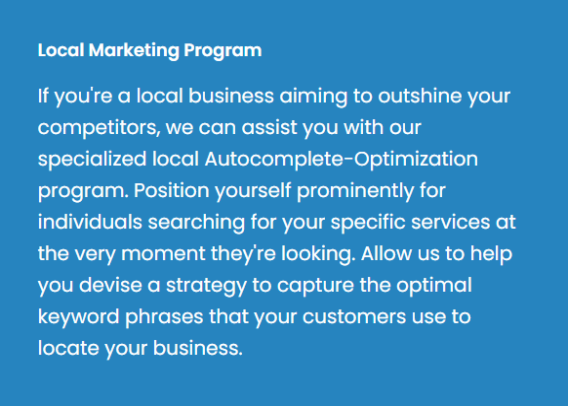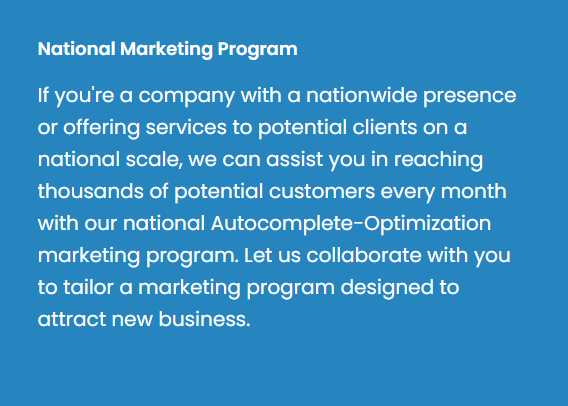 Get started today and own the keyword phrases
where customers find you the most.